Debates are a natural cause of having different point of views, and in many circumstances they end up with many loose ends, other times however, a developed shape of arguments can occur, either by disagreements, miscommunications and lack of hearing one another…
One night, I found myself being part of a debate, a table was there, different kind of drinks, an ashtray that has been put into good use, as the heat of discussion arises, it was as if we had our own miniature U.N meeting!
If women are to be leaders of this world, we won't charter the wars we had and continue to have throughout the history of mankind!!!
at first and like most people around that table, had already agreed to this conclusion, without further elaboration…One can even say that, because women are more sensitive to issues of humanity, appointing women into leadership roles would have living effects to a more sensible world, others might even concur, that women have better judgment scales in many matters and situations than men, even statistically speaking, women proved to have better social judgments, and regardless if we agree to all, some or even none of the above, one must approach the subject from many different perspectives.
At first, we need to establish what reality we are dealing with when it comes to today's leaders of the world…
"You gotta make the money first, then, when you get the Money, you get the power, when you get the Power, then you get the Women"
-Tony Montana (Movie:Scarface)
In a nutshell, he explained the hierarchy of thinking for most world leaders of today and throughout history. But that also explains the manly perspective of leadership!
What about women then? had they gotten their chance from the beginning of time to become Adam's Eve, would they have done what men already did and continue to do, will they be driven by greed, only to become fanatics of power, to get us Men. Or will there be peace and harmony, like the one we find in our mothers, wife's and maybe even our daughters, the future moms of tomorrow!
In theory, we have just about 200 countries in this world of today, again in theory, lets consider that Women are to be leaders of the world we know could exist, it would be fair to say, that a handful of countries would be led by Men, that in mind, I can only remember Tony's remarkable theory on how to gain power for those scattered bunch. Was it money or women, I guess you're the judge of that!!!
The fact is, we were and still are being a systematized gender racist human beings, we were brought up to live with racial profiling, and the ability to even imagine and embrace situations beyond racial discrimination, the fact is both genders have egos, rights and demands to be protected, and no matter how we flip the coin to see the answer, we always forget that the basis of successful conclusions is communications, mutual respect and understanding, once we are able to address issues with such attitudes and away from all the weaknesses we project on each other by profiling parties into different boxes.
History always had its funny ways of showing us how we always believe in absolute truths and proved us to be otherwise! For instance, the famous Titanic ship sank in the sea, when its makers had absolutely confirmed 'on many occasions' that, it would be impossible for this ship to sink! Hitting that iceberg and drowning its 2000+ passengers was like a check of reality on how things might go wrong with one simple 'everyday' expectation or judgment.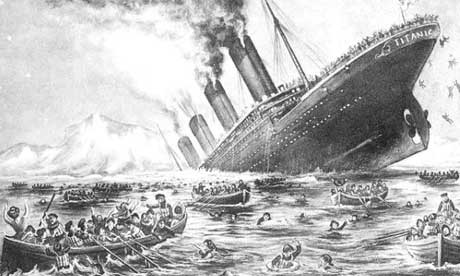 There were many studies made to understand the reasons why this ship sank, and many analysts directed the blame to the captain of the ship (Smith), refusing to accept any other excuse, since the captain has the higher hand and final decision taking abilities, and where being disobedient to his orders, are to be punishable by law.
So what are the captains mistakes in judgment of the dangers to sudden floating icebergs and the required time to correct the distentions direction once the iceberg was spotted? A question that still baffles many researchers, although a handful of them, believed that his long extensive experience of more than 40 years were one of the main  reasons of the captains mistakes.
How did that happen? How can experience work against its owner after it has worked in their benefit all those years. Experience comes as a result of concluding lessons and examples from events and situations!
In the case of dealing with recurrent situations and events connected to collaborative theories and inputs thus concluding a pattern or an example to deal with similar situations and events in the future.
With the increasing repeat of similar situations and events, roots out extracted examples and patters to form an essential mental and psychological reference in decision making similar to a hard drive in a computer. Experience plays a very efficient role in speeding the analysis of an event, situation or interaction to deal with, through viewing and comparing formed examples and patterns to the decision making references. The similarity in an event or a situation in incidents and past experiences, provides similar reaction, and here lies the danger!
When a similar event or situation occurred in past experiments and events, but is still different from them in theory or inputs of it occurrence, or when a totally different event or situation would happen with previous experiments and events, will overcome the decision maker's psychological and mental references, originated as a result of their long experience, and so they interact with new events similar to the way they react to previous others, assuming the ability of new events or situations to respond to the previous reactions, and here where the disaster happens, and this is where analysts believe that what happened in the case of the sinking Titanic ship, where long experiences of captain smith was with totally different ships than this particular one, and depending on that experience, he believed that the ship can properly correct its direction within time of seeing any icebergs, but he misjudged, as this ship was not like any others he drove, different in its speed, size and manufacturing, thus being slit by the other edge of the sword.
If we bring to bear the Titanic destiny as a reflective example to our communities, we can crop up many valuable lessons.
Circumstances that governed the mid 70's (the boom) in our communities, left us with experiences that has roots controlled by theories and inputs that belonged to that period of time. However, in the new millennium all those theories and inputs had severely changed, but the references that formed it and was deepened by years of the boom in people of experience, had more influence for it to go through any change, unable to keep up with the rapid speed of such developments, and so situations change and ships alter, governed and pushed to reached its goals with factors, reasons and motives, while leading the helm with old references originated as an outcome from experiences of those booming years.
And to come closer to the essence of the subject, I will provide one of many examples.
During those booming days, projects were conducted with less studies and regardless to any cost, in the fastest way possible, because it involved massive profits, adding the time factor being the most important for success, at those times.
In today's world, time factor should be chartered to allocate unique, specific and clear strategies with detailed planning, conducting intensive studies and focusing on the development of the processes to conduct projects and business and have the ability to manage them, and to find the proper experiences to attract in order to form successful projects and raise the quality of performance and services, and enjoy becoming distinguished from competition.
Yes, Captain Smith's long experience played a contradictory part, and instead of setting sail on port, it sat sail deep in the ocean, only within a couple of hours.